MOON RISE
Book 4 of the LYCANTHROPIC series
The world has changed forever. Werewolves are in the ascendant. Humans cling to survival.
London lies in ruins. But beyond the capital, war rages on.
The survivors gather in evacuation camps, facing hunger, disease and other new threats.
While Doctor Helen Eastgate searches desperately for a cure, a new Wolf Army is gaining strength.
James struggles to use his new-found powers for good. Liz tracks a hidden killer.
And in the post-apocalyptic landscape beyond the camps, groups of travellers set out into the unknown, facing fresh horrors they cannot imagine. All will be changed by their journeys, but who will survive?
MOON RISE is the fourth book in the LYCANTHROPIC apocalyptic werewolf series. The Age of the Werewolf has arrived!
Buy the book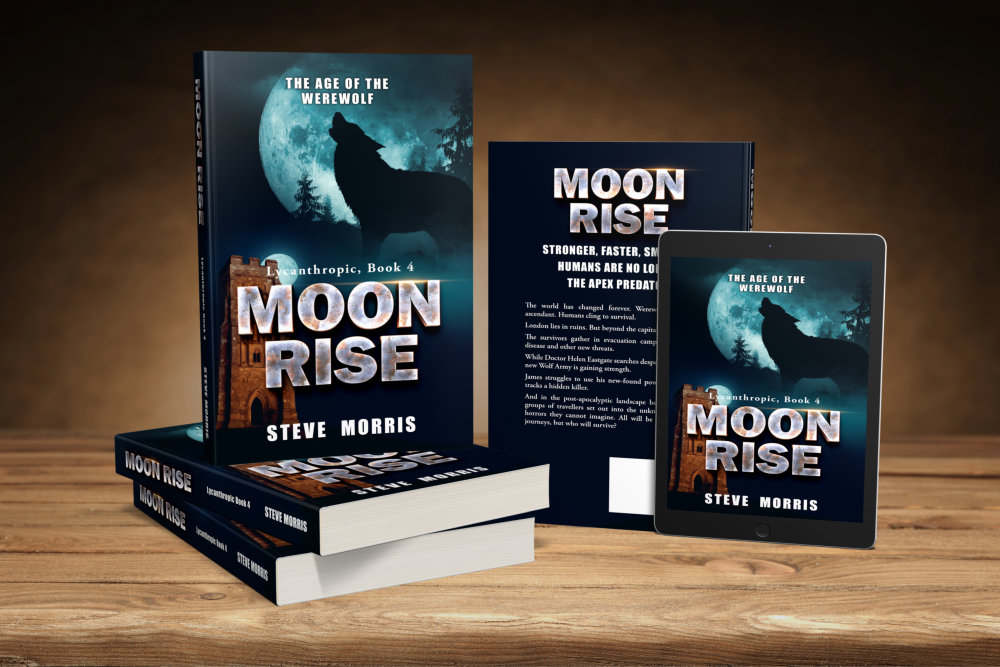 REVIEWS
What a monster thrill! I love this series! Fangs & claws & gore & more oh my!
★★★★★
Amazon reader
---
All I can say is WOW! I got hooked on the first book and been sticking with Steve ever since. I'm awaiting book 5 for more action!
★★★★★
Amazon reader
---
I'm loving this series but this one in particular gripped me completely from start to finish. I can't wait for the next book.
★★★★★
Amazon reader
---
The saga continues... Werewolf novel at its best...
★★★★★
Amazon reader
---

Copyright 2017-2019, Steve Morris, Landmark Media